Drum Books by Alain Rieder
"Fun, creative and educational" - Modern Drummer 2019

This drum book is both innovative and rooted in tradition. It is designed to work on coordination in a groove context. It makes it easy to approach essential rhythmic concepts – from the most basic to the most complex – in a realistic, progressive and systematic way. Aimed at drummers of most levels, the book has an open structure that lets you develop your own ideas and creativity.

Time Manipulation was first published in 1992, gathering positive reviews from well-established drummers and reviewers. This is a new enhanced edition, first published in 2018 and available in English & French.
The book has a total of 140 pages, including 68 groove exercises of 16 measures.
Combined with the suggested ostinatos, these exercises represent thousands of possibilities.
In addition there are 147 examples in the book, with more than an hour of mp3 files to download, which demonstrate the examples.

Price in Swiss Francs : CHF 50.00
Price in Euros on www.lulu.com : 35 € + shipping
You will find the link to download the mp3 examples inside the book.

Thank you for keeping this link private, it is reserved to the owners of the book.
If you purchased Time Manipulation before August 2018 and did not receive the link to the mp3s, contact me by email.
Modern Drummer Magazine - March 2019
Here is the last review published in the March 2019 issue of Modern Drummer Magazine.
By subscribing to my newsletter, you will be able to download excerpts from the book, as well as mp3s. You will find the download links in a confirmation email.
You will receive messages, from time to time, about my activities, videos and books.
You can unsubscribe from this mailing list very easily whenever you wish.
Save 15% on your orders until March 21

Offer available in these stores: Switzerland, Canada fr, Nederland, Spain, Italy, USA in Spanish.
Use Code: LULU15
From
Germany
or
France
, connect to the Swiss store to get the 15% discount.
Books can be delivered worldwide, and are printed in a geographical location close to the delivery address.
There are several shipping options, including an economical one, regardless of the delivery address.
You can also have the books delivered to an address other than your own, for example as a gift.
I don't receive any of the buyer's details, so subscribe to my newsletter if you want to be kept informed of my new book and video releases, etc.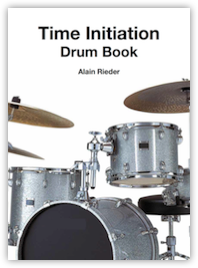 Time Initiation Drum Book
Time Initiation is aimed at beginners, or at drummers who want to review the basics and go beyond their current level.
It is a clear and concise structure to learn basic coordination and groove in 4/4 and 12/8, basic breaks and fills and much more!
There is a full theory section at the end of the book.
It is bilingual (English & French).

NB : This book is reserved for my own students for the moment.