On December 4, 1971, I went to Montreux with my friends, to attend the Frank Zappa concert that was going to take place in the afternoon.

I had just turned 16, but I remember having pictures of Zappa and the Mothers on my bedroom wall from the age of about 13. In particular, I had cut out the famous photos taken by Art Kane and published in 1968 in LIFE magazine, for which they had posed with babies, because those photos amused me.
My first contact with Zappa was more visual than musical, as I hadn't seen any of his records in stores until the release of Hot Rats in 1970, which was the first of his records to be successful in Europe.

Hot Rats had really caught my attention, and at the time of the 1971 concert, I also had Weasels Ripped my Flesh that someone had brought back from New York, Chunga's Revenge, as well as Fillmore East: June 1971 which had just been released.

We walked from the train station to the Casino and as we passed a movie theater I saw a poster for 200 Motels, the film Zappa had made shortly before, which we had never heard of before.

Intrigued by the poster, I assumed there would be a screening, but I didn't take the time to look in detail at what it was about, as we were in a hurry to get to the concert venue. I thought about looking on the way back, but on the way back I had something else in mind, and I had to wait until 1982 for my first opportunity to see this film, while living in Los Angeles.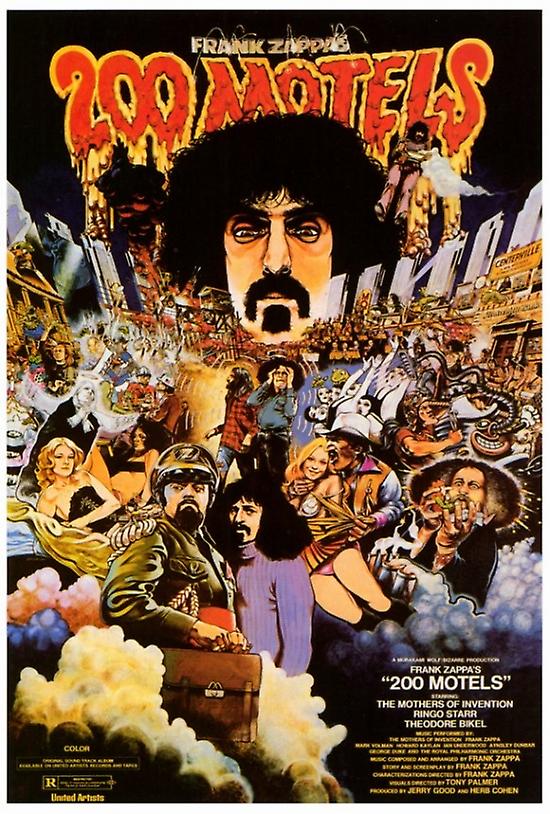 The Montreux Casino was an old building inaugurated in 1886. A modern hall had been built in the garden on the lake side for concerts and other events, and it was accessible from the ground level by crossing the old building. The ground being slightly sloping towards the lake, the situation of the hall corresponded to a second floor.
This is where the Montreux Jazz Festival was held in the summer, but during the rest of the year other concerts were organised there, under the name of Montreux Pop, and people came from far away to attend them.
I was 14 years old the first time I went in August 1970. There were two concerts on the program, with three bands that were supposed to play twice each. I remember seeing Black Sabbath and Taste, but Cactus the third band had been blocked at the border and only played the second show which I was unable to attend.
Taste was Rory Galagher's power trio, and their shows were recorded, resulting in the record that is called Live Taste.
The bassist for Cactus was Tim Bogert, also bassist for Vanilla Fudge and Beck, Bogert & Appice, and I had the opportunity to meet him in 1981, as he was teaching at the Musicians Institute in Los Angeles where I was studying.

That day in August 1970, Claude Nobs was on stage to announce the next concerts and that's when he told us that Jimi Hendrix was coming before the end of the year. Explosion of excitement in the audience. It was the time when the triple LP and the film from Woodstock were released, as well as the Band of Gypsys album.
Unfortunately Jimi passed away on September 18, which really affected me because I loved him so much and was looking forward to finally seeing him.

The summer of 1970 was an incredible time for musical discovery.
I remember other concerts I saw in the Casino venue, Deep Purple, Procol Harum, Jethro Tull and Santana, between 1970 and 1971. I also remember missing bands I really liked like Led Zeppelin and Chicago, or Santana's first concert.
So on December 4, 1971, I had just turned 16, I was already familiar with the place, but I had no idea that I was going to enter this hall for the last time.
At that time, there were no chairs, it was not yet the fashion of the standing concerts, and the public sat on the floor, sometimes on a cushion or on a jacket rolled in a ball, which was my case.

That day, there was an unusual decoration on the ceiling. It was probably planned for the end of the year celebrations, and it seems to me that it was a tropical decoration, with or interlacing reeds or lianas, with paper or polystyrene flowers perhaps. What is certain is that all this material was dangerously flammable, as the future has proven!
What you can see above the stage must have been acoustic panels.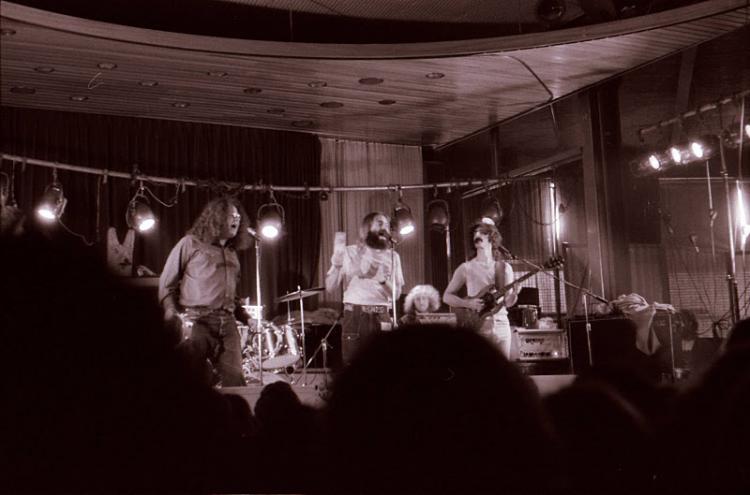 At the time I didn't know all the songs played, I understood very little English and in this version of the Mothers there was a lot of dialogue. I remember Zappa's entrance on stage wearing what I thought was a robe and holding a coffee pot. I liked this slightly eccentric side, even though we know that Zappa was a very intelligent man.

You can see the coffee pot on the Orange brand amp head, to the right of Zappa. The garment is probably the one on the black speaker cabinet, which I'll talk about later.
I remember when Frank announced Call Any Vegetable by saying "this is a song about vegetables", the audience started to applaud, but all the lights turned green instantly and the applause was cut short by the surprise felt by the audience. When you listen to the recording of the concert, you can hear it clearly.
So here we are, after about an hour and 20 minutes, the band has just played the melody from King Kong, and leaves the stage to Don Preston for a synthesizer solo. Don fiddles with the oscillators of his Mini-Moog, it is a coincidence, but he produces sounds that may sound a bit like an alarm.
I'm sitting in the center, about 2/3 of the way across the room. The sound of the synth suddenly stops, and I see flames in the ceiling 10 or 15 meters away from me on the right. Mark Vollman says "Fire! Arthur Brown in person!" Then Zappa says "Calmly go towards the exits, ladies & gentlemen".

I didn't see, but a guy fired a flare gun towards the ceiling. At the beginning, the fire is very small, I think that it will be put out quickly and that the concert will continue. I drag a little to go out, I hesitate to leave my jacket rolled up on the floor keep my space on the floor, well in front of the stage!
People go out quickly and very calmly, and the firemen and guards on duty get a little upset to get us out faster.

The fire grows quite quickly, and people open the curtains that hide the windows on either side of the stage. I see some people grab chairs to break the glass.
I see a little blood, someone has been injured, but it seems to be minor.
Once the windows are broken, we feel a big draught rushing in the room, which drives away the smoke, but also fuels the fire.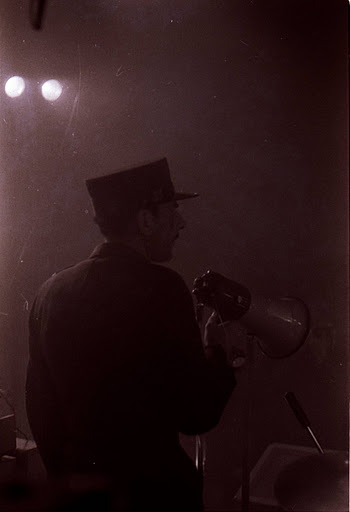 I decide to go out that way, the ground must be about three meters down, there is a ledge I hang from and I drop into the grass without any problem.

A friend of mine, whom I didn't know at the time, told me this:

"Alain, I was there too! It is with a WEM speaker cabinet sound system that was on stage that I grabbed with other people to break the windows, which enabled us to escape by jumping in the grass below...
I remember very well Zappa very calmly telling the audience to get out without panicking. I think that his calmness allowed a quick and safe evacuation.
In the rush, I had left a small Moroccan bag in which I had put my things and an Afghan coat (made of sheepskin, very trendy at that time) and especially my documents. Before jumping, I went back on my steps to take back my things which were exactly where I had put them.
Coming out of the smoke, a fireman, visibly surprised to find me there in front of him kindly asked me to leave... "quickly because it's very dangerous to stay there!"
I had the impression that Don Preston's "moog" was still making weird sounds on the deserted stage... So I grabbed my stuff and quickly walked out through the broken windows. It seemed to me that a few moments later, the ceiling collapsed."

This speaker cabinet is clearly visible on the right side of the stage, and on one of the previous pictures we can see its three letters logo in the upper right corner, a little blurred but very characteristic. According to Frank Zappa, the Orange amp went the same way.

The next picture of the WEM logo is not from the concert.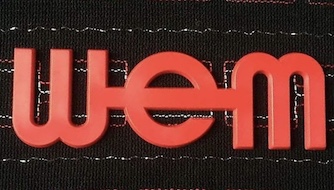 The stage was very low, at most three feet, and that's what made it easy for another friend of mine to climb it and end up walking down a backstage staircase with Zappa.

Another guy managed to reach out and grab Frank's wah-wah pedal. Being a guitarist, he still uses it today. Appart from a cowbell mentioned by FZ in an interview, it may be the only instrument to have survived the fire.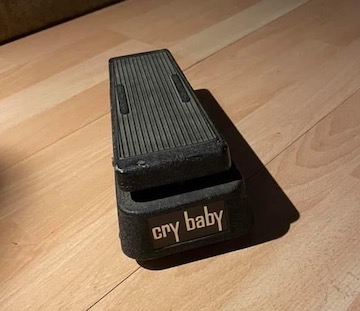 After jumping from the window, I go around the building to find my friends, and I see people coming out of the main door with Zappa posters in their hands.
I can't imagine that the whole building is going to burn down in a very short time, so I go back in through the main door and come out with some posters.

I had this poster already, as it had appeared folded in eight in a Swiss German magazine called POP. The poster distributed at the concert was the same size, but it was not folded. It didn't have the POP logo on it, but the paper was also very thin.

I may still have a copy of the folded poster, but I think it's in eight pieces.
I found the following picture on the net.
This door must have been on the side of the building, the main entrance was larger.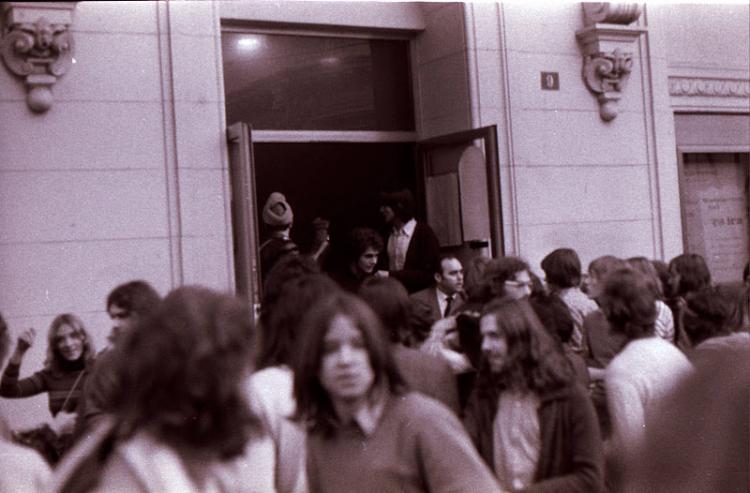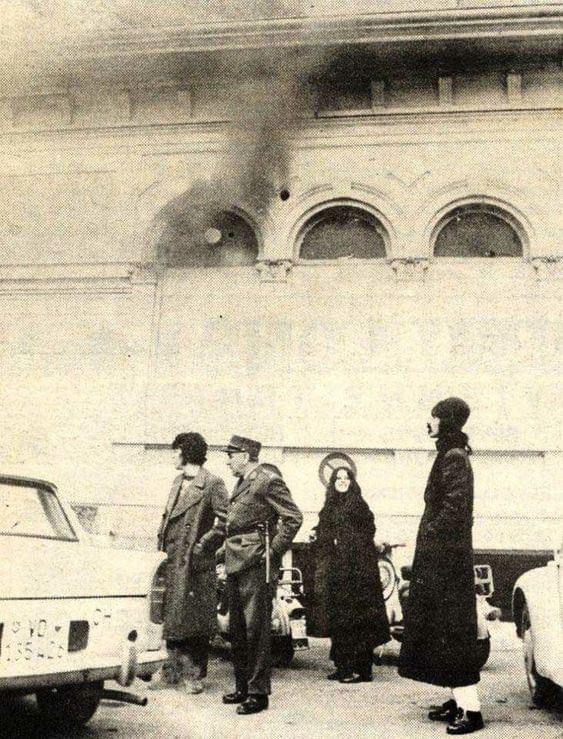 Then, the building is totally on fire, the night falls and it is really impressive.
I particularly remember the moment when the roof collapsed to the first floor with a loud noise.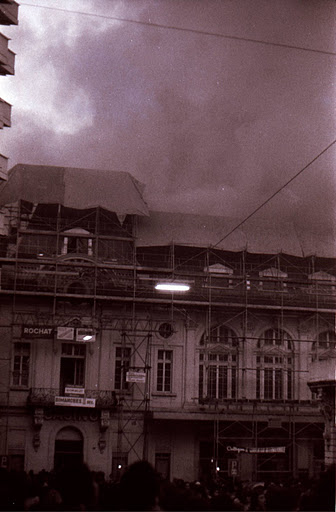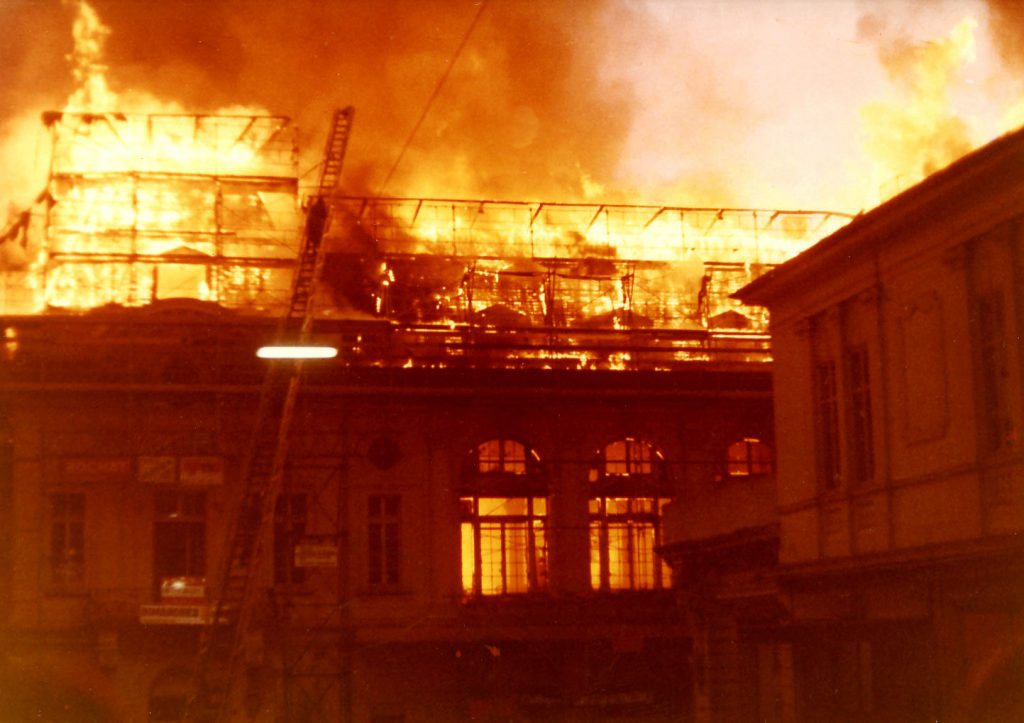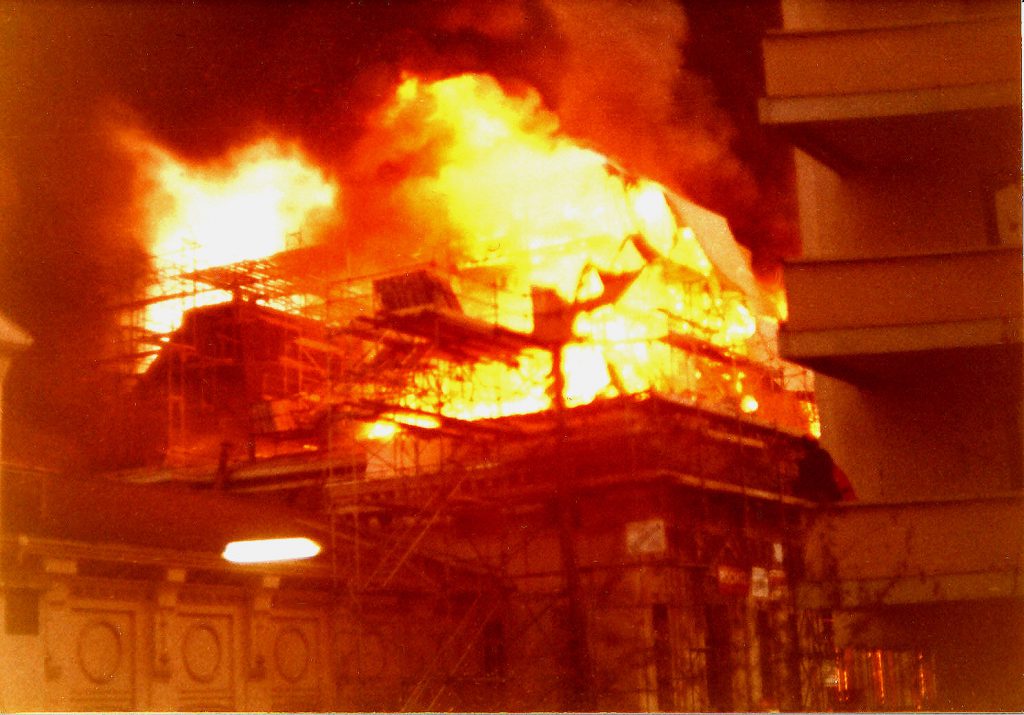 Interview of Frank Zappa, by the French TV, about the fire.
The following photo shows the corresponding spot in the back of the stage.
I think I hung from the ledge and jumped in the area to the left of the bushes.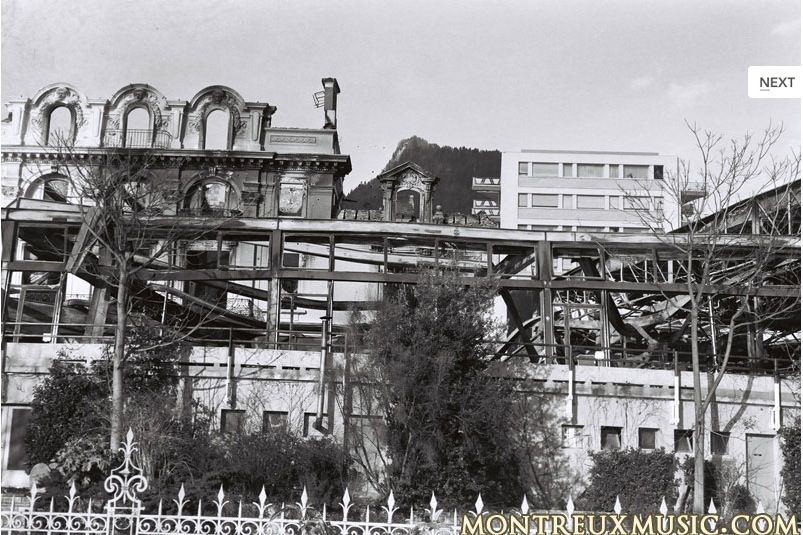 This picture of me was taken for a ski pass in December 1971, probably in the days after the concert.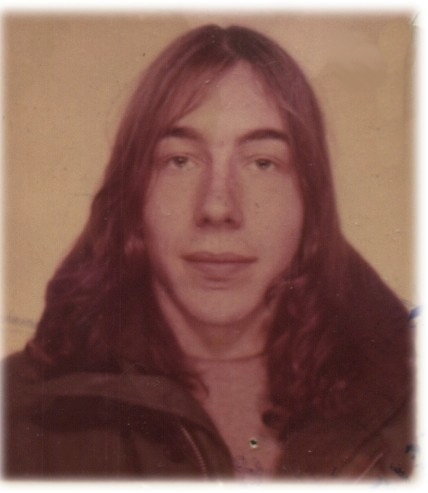 I had the hippie look, but I was also a very good skier. During the Christmas break that year, I was at a ski camp in Adelboden in the Swiss Alps, and I had taken along a recording of the Zappa concert in Montreux that a friend of mine had made on mono cassette. The recording was very bad and noisy, but I learned the concert by heart during this vacation!

It is also in this ski resort that I found by chance my first copy of the record "Freak Out" in a mutilated German pressing. I say "mutilated" because this double album was presented there with only one disc and with shortened versions of some tracks.
The Montreux Pop concerts continued in a hall called the Pavilion. In 1972, I remember seeing Caravan, Pink Floyd and Led Zeppelin, as well as the first version of Mahavishnu Orchestra, with Billy Cobham.

At that time I was a self-taught drummer, but I was studying music at the conservatory, and in particular the cello.
Being open-minded, I was interested in other styles of music, like jazz or contemporary music. I remember seeing Karlheinz Stockhausen and also Pierre Boulez in concert, long before he collaborated with Zappa.

My interest in Zappa and his music was confirmed in the years that followed, I had all his records, even those that were unavailable for years, as well as bootlegs. I saw him live nine more times, until 1988.

Around 1977, I started a band that played FZ compositions. I had the idea of doing a single concert, for fun, to learn, etc. We presented this project at the New Morning in Geneva and it took place under the name Zappa Special.
As the evening attracted a lot of people, we were offered one date per month for a whole season and we also played other concerts in the region.
We played songs like Brown Shoes Don't make It, Peaches En Regalia, Blessed Relief, Eat That Question, Twenty Small Cigars, Oh No & Orange County Lumber Truck, Anything, My Guitar Wants To Kill Your Mama. I played drums and sang backup vocals and some lead songs.
We didn't rehearse much, it was a kind of jam band, so the shows were very improvised, but also very lively! The basic band was guitar, bass, drums, piano, sax and bass clarinet, and sometimes we had guests.

In 1981, I went to Los Angeles to study at the Musicians Institute, and one of the main reasons I went there was because a former Zappa drummer, Ralph Humphrey, was teaching there.

Strangely enough, it was also on December 4th that Frank Zappa died of cancer, in 1993.

I can't talk about this concert without mentioning Smoke on the Water, the well-known Deep Purple song inspired by the fire. This song does not remind me of the Zappa concert, even though it talks about it, since it did not exist at that time.
It reminds me more of a teenager who played the guitar riff over and over again by the lake the following summer.
Here is the list of Frank Zappa concerts I attended:

1971 12 04 - Casino, Montreux, Switzerland
1973 09 02 - Mehrzweckhalle, Wetzikon, Zürich, Switzerland
1974 10 01 - Festhalle Mustermesse, Basel, Switzerland - Early show
1978 02 05 - Festehalle, Bern, Switzerland
1979 04 01 - Hallenstadion, Zürich, Switzerland
1980 06 21 - Patinoire des Vernets, Genève, Switzerland
1981 12 11 - Civic Auditorium, Santa Monica, CA USA - Early show
1984 09 17 - Palais Omnisports de Bercy, Paris, France
1988 05 11 - Hallenstadion, Zürich, Switzerland
1988 05 19 - Le Summum, Grenoble, France
For those of you who play drums, I can recommend my amazing drum book called Time Manipulation, which is meant to help develop your groove, polyrhythms, displacements, etc.
It is available in English and French, in print and ebook versions.
---
Time Manipulation Drum Book
A critically acclaimed drum book
Basic to advanced concepts
Polyrhythms & beat displacements
Printed version

in English

Coil bound

140 pages with

downloadable audio

31.50€

35€

(-10%)
free shipping worldwide
20% automatic discount from 3 copies.

30% discount from 5 copies, enter code SELLER30
digital version distributed by Hudson Music
14.99
Fun, inspiring, and educational
Modern Drummer Magazine (USA), 2019
---
default_title

Download excerpts from Time Manipulation Drum Book in pdf & mp3 format, after you confirm your subscription by email.

default_title

You'll be informed about new blog posts, new exercises, promos and future books!

default_title

Check your spam folder if you don't get any reply.
---
---
Back