Polyrhythmic Ostinatos - part 3
Drum Lesson by Alain Rieder
Three variations of a cross-rhythmic ostinato. Each example is played four times:
The same three ostinato patterns played in a sequence, with added bass-drum & snare:
A similar concept, but with a shifting "Jazz Ride" pattern:

The late Michael Brecker wrote an interesting song with the same shifting ostinato.
This pattern is taken from Escher Sketch, the first track of his CD "Now You See It, Now You Don't"

Musical examples are granted for your personal use only.
© 1998 Alain Rieder - all rights reserved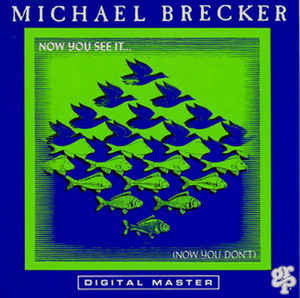 Artist: Michael Brecker
CD: Now You See It, Now You Don't
Song: Escher Sketch - A Tale of Two Rhythms (short excerpt for educational purpose)
Cymbals: Adam Nussbaum
+ programmed drums.

It starts with what sounds like a standard jazz pattern, and then it transforms into the 6/4 pattern that was shown in example 4.

The illustration on the CD cover is a drawing by M.C. Escher.
If you look at it closely, you'll notice birds transforming into fishes.
This Dutch designer left a work in which there are many optical illusions and distortions of perspective.
Peter Magadini - Polyrhythms LP
I was experimenting with similar concepts on my own, already at the end of the 70s. I thought I had heard this kind of ideas in David Garibaldi's playing, for example, although I later realized that his approach was a little different.
Then I found an LP by Peter Magadini called Polyrhythms, that I had seen advertised in Modern Drummer. The first song of the LP was called Doin' Time and a Half, and is an interesting approach to the same concept.
I still have the LP, but it seems there was a CD issue as well.
The same song is also available on the accompanying CD of one of Peter Magadini's drum books called Polyrhythms for the Drumset. I think the song has been renamed into Doin' Time in 4+6, which can make sense if you understand my article.
This song was co-written with Georges Duke, and it is nice to hear him play as well, especially if you like what he was doing around the time he left Frank Zappa's band.
---
Time Manipulation Drum Book
A critically acclaimed drum book
Basic to advanced concepts
Polyrhythms & beat displacements
Printed version

in English

Coil bound

140 pages with

downloadable audio

31.50€

35€

(-10%)
free shipping worldwide
20% automatic discount from 3 copies.

30% discount from 5 copies, enter code SELLER30
digital version distributed by Hudson Music
14.99
Fun, inspiring, and educational
Modern Drummer Magazine (USA), 2019
---
default_title

Download excerpts from Time Manipulation Drum Book in pdf & mp3 format, after you confirm your subscription by email.

default_title

You'll be informed about new blog posts, new exercises, promos and future books!

default_title

Check your spam folder if you don't get any reply.
---
---
Back