Chameleon is a well known jazz-funk composition by Herbie Hancock.
In the original studio version, around 12 minutes into the track, there is a less known part with interesting rhythmic modulations. Let's have a look at how it works!
Before we get to the rhythmic modulations, let's have a short look at Harvey Mason's basic groove pattern, which is well known already.

This is a cool pattern, and its main characteristic is the anticipated backbeat on the snare drum, right before the second beat.
My Time Manipulation Drum Book provides a whole section on anticipations, that will make the picture much more complete if you study it. See pages 49–62 of the book.
This example is the transcription of the structure of a less known part of the tune that I call the interlude and which has interesting time signature changes that can be called rhythmic modulations.
Section G starts at 11:48 into the track, and it is in 4/4. It ends with a measure of 7/8 that makes the transition to the 6/8 measures in the next section.
Section H is in 6/8 for four measures and goes back to 4/4 for one measure.
Section I starts with three measures of 4/4, one measure of 7/8 and then seven measures of 6/8 and back to 4/4 in the last measure. It repeats three time and ends with the third ending.
Play the video below and follow the chart above
Look at the video below to see the structure that I outlined in the Transcribe! application.
Section markers are blue.
Measure markers are green.
Beat markers are thin and black.
Listen to the click provided by the markers.
See the time signature changes in the grey area above.
NB the video starts four measures before section G
Here is a basic groove pattern in 6/8. This time signature is made of two beats.
To understand the general feel of what's being played in the 6/8 section, it is interesting to work on 2:3 polyrhythmic patterns such as this one:
My Time Manipulation Drum Book provides many similar patterns in 12/8, including displacements of these rhythms. They will make the picture much more complete if you study them. See pages 100–107 of the book.
We can have an interesting look at the 6/8 passages, if we count them in three beats instead of two.
Here is a basic 3/4 groove pattern:

What is interesting in this case is to feel a 3-count pulse, but to imply patterns in 6/8 - and therefore in two beats - within the 3-count.
Try to play the patterns counting aloud.
Example 7:
There are 4 dotted eighth notes in the space of 3 beats (quarter notes).
There are 2 dotted eighth notes in the space of 3 eighth notes.
Now let's play this 4:3 (or 2:3) polyrhythmic pattern, again counting aloud in three:
Example 8 is the same pattern with an alternate writing, which may be more common to drummers.

This is the same structure as in the previous video, but with 3/4 clicks instead of 6/8.
Listen with attention and you will hear that 3/4 ideas are actually played, as well as 6/8.
It always makes sense to have more than a single point of view on the subject of time signatures.
My Time Manipulation Drum Book provides a whole section on rhythmic modulations, metric modulations and implied modulations. Do yourself a favor and look at pages 122–137 of the book!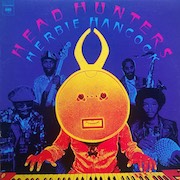 Herbie Hancock Head Hunters
Herbie Hancock
: keyboards

Bennie Maupin
: sax

Paul Jackson
: bass

Harvey Mason
: drums
Copyright © 2019 - Alain Rieder - all rights reserved

---
Drum Books by Alain Rieder

"Time Initiation" (published in September 2023) offers a structured and creative approach to drumming instruction, suitable for all levels, featuring innovative concepts such as "Pattern Morphing" and "Universal Fills." Its bilingual format (English and French) and its section on rhythm-centered music theory make it an essential tool for both students and teachers. It is designed to be studied before or in parallel with Time Manipulation.

"Time Manipulation" is a critically acclaimed method, ideal for exploring groove and advanced concepts such as polyrhythms and rhythmic displacements, while delving deeper into the ideas of "Pattern Morphing" introduced in "Time Initiation." Available in both English and French, it was described as "fun, inspiring and educational" by Modern Drummer Magazine in 2019.
---
By subscribing to my newsletter, you will receive updates on new blog articles and exercises, promotions, and upcoming methods! Upon confirming your registration, you will be able to download:
• excerpts from Time Manipulation • explanations of my Pattern Morphing System concept • metronome tracks to use with the exercises • previews of an upcoming advanced and innovative method
---
Back