In this article I break down a groove by Steve Gadd, based on an Afro-Cuban bell pattern, which can also be played on a ride cymbal.
Here is the intro of a song called One Point Five. The groove is inspired by a traditional Afro-Cuban bell pattern in 12/8.

This is the traditional bell pattern, which can also be played on the ride cymbal. I first knew this rhythm as Nanigo, then as Afro-Cuban 6/8, and finally as Bembe. To this day, I don't know exactly the difference that certainly exists between the terms Nanigo and Bembe, but this rhythm is one that every drummer should know how to play.

To learn this rhythm, you can start by playing a double paradiddle.

Then the right hand moves to the ride cymbal, and the accentuation is changed a little.

Add the bass drum on the first beat, and play most of the left hand notes in ghost notes.

To get closer to Gadd's pattern, remove some of the ghost notes, play the snare drum with a crosstick, and the hi-hat with the left foot on the 2nd and 3rd beats. In the traditional pattern, the last note of the bar would be played by the right hand on the bell, but here it is played by the bass drum.

Here is once again the transcription of the intro, but this time written in two voices.

Copyright © 2020 - Alain Rieder - all rights reserved
Time Manipulation Drum Book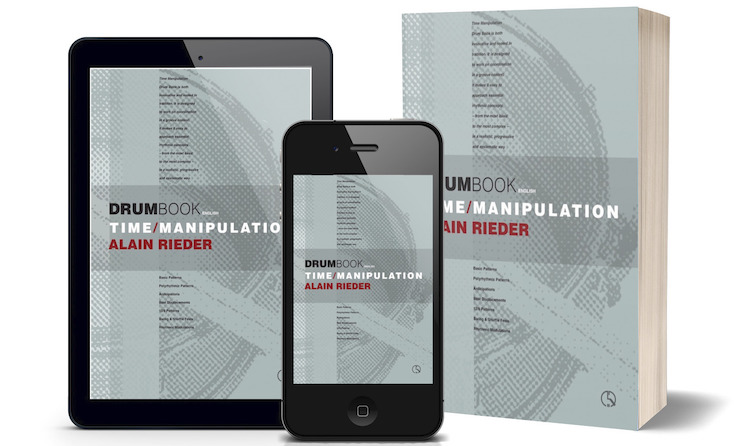 Print version available
15% off with code SEPTEM15
30% automatic discount from 5 copies
free shipping worldwide
digital version distributed by Hudson Music

Fun, inspiring, and educational
Modern Drummer Magazine (USA), 2019
default_title

Téléchargez des extraits de Time Manipulation Drum Book après avoir confirmé votre inscription.

default_title

Vous serez informé des nouveaux articles de blog et exercices, des promotions et des futurs livres !

default_title

Vérifiez votre dossier spam si vous n'obtenez pas de réponse.
Back