This is the second part of an article that was originally published in Batteur Magazine in 1997. Here I show you how to further develop the pattern that was demonstrated before.
Soul with a Capital "S" - Part 2
Again, one of the patterns seen in the previous part.

The fourth measure is a possible variation of the pattern

One of the rhythmic elements from the preceding pattern
The same pattern, played with 16th-notes

This exercise serves the purpose of integrating the pattern seen in Example 3.
Each bar is played twice.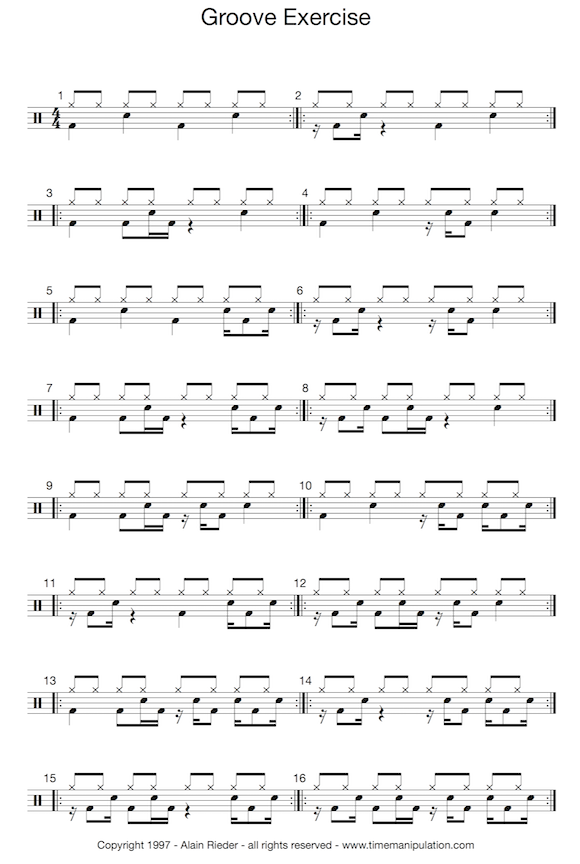 Musical examples are granted for your personal use only.
© 1997 Alain Rieder - all rights reserved
NB - The previous exercise isn't part of my
Time Manipulation Drum Book
15% Off
Use code ONEFIVE | Expires November 14 at midnight
In the stores: USA, UK, Ireland, Canada & Australia.
Buy the English version
Free economic shipping
or 50% discount on standard delivery
Use code ONESHIP | Expires November 14 at midnight
In the stores: Germany, Nederland, Spain, Italy, France, Switzerland, Fr. Canada.
Buy the English version
default_title

Download excerpts from Time Manipulation Drum Book in pdf & mp3 format, after you confirm your subscription by email.

default_title

You'll be informed about new blog posts, new exercises, promos and future books!

default_title

Check your spam folder if you don't get any reply.
Back