The magic drum book to help you work on your coordination in a groove context.
Basic and polyrhythmic patterns in 4/4 & 12/8, rhythmic displacements, implied metric modulation, and much more!
In Section 2 of Time Manipulation, new patterns are formed using some of the basic rhythmic figures seen in Section 1. This is done in a musical way, using polyrhythms that are ubiquitous in many musical traditions, as well as in current styles.
These exercises can be worked on in a variety of ways.
Start by working on each pattern separately.
I suggest various ways of sequencing the patterns on the page, for example by playing each bar twice, four or eight times..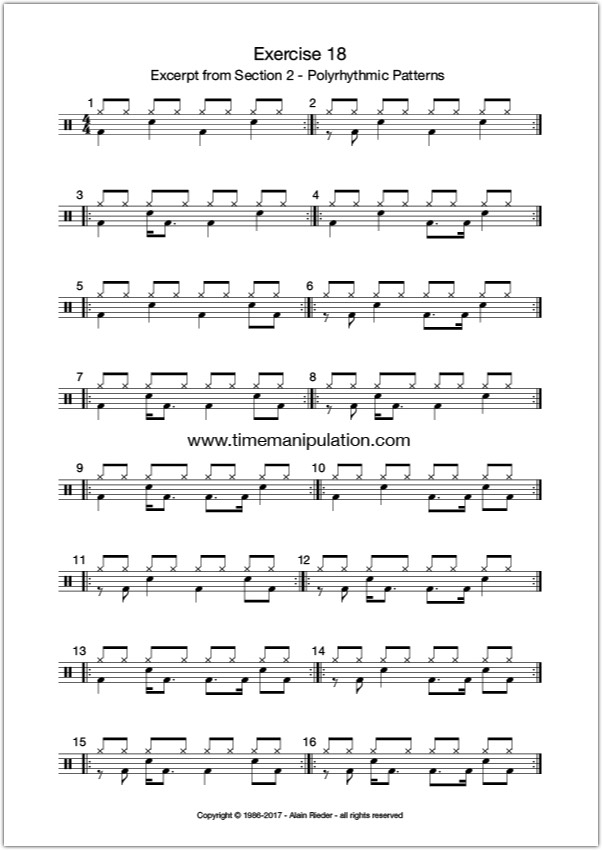 Copyright © John Smith, All Rights Reserved.
In this example, each pattern is played twice.
---
Time Manipulation Drum Book
A critically acclaimed drum book
Basic to advanced concepts
Polyrhythms & beat displacements
Printed version

in English

Coil bound

140 pages with

downloadable audio

31.50€

35€

(-10%)
free shipping worldwide
20% automatic discount from 3 copies.

30% discount from 5 copies, enter code SELLER30
digital version distributed by Hudson Music
14.99
Fun, inspiring, and educational
Modern Drummer Magazine (USA), 2019
---
default_title

Download excerpts from Time Manipulation Drum Book in pdf & mp3 format, after you confirm your subscription by email.

default_title

You'll be informed about new blog posts, new exercises, promos and future books!

default_title

Check your spam folder if you don't get any reply.
---
---
Back