Section 4
of
Time Manipulation
is meant to approach beat displacements in a simple and progressive way. It includes
three sets of seven exercises
, and I feel they are one of the most interesting series of exercises in the book.
I suggest to play the 16 patterns of the page in sequence, each measure being played twice.
You can work on separate patterns at first, but playing the patterns in sequence is what brings out the real strength of the exercices.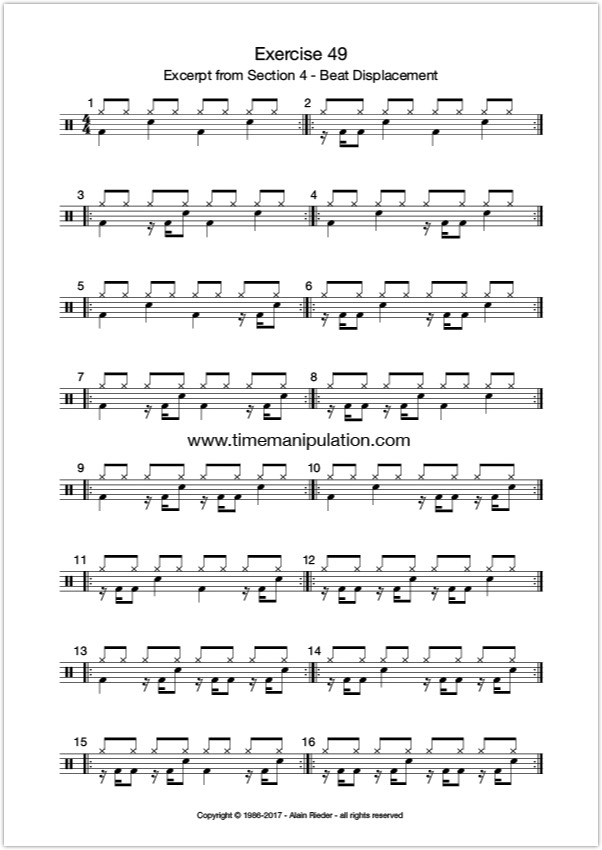 Copyright © John Smith, All Rights Reserved.
15% Off
Use code LULU15 | Expires October 31 at 11:59 pm
In the stores: Switzerland, Canada fr, Nederland, Spain, Italy.
(from Germany, connect to the Swiss store to get the discount)
Buy the English version
default_title

Download excerpts from Time Manipulation Drum Book in pdf & mp3 format, after you confirm your subscription by email.

default_title

You'll be informed about new blog posts, new exercises, promos and future books!

default_title

Check your spam folder if you don't get any reply.
Back